Profound Healing & Rejuvenation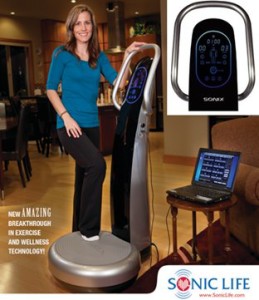 Sonic Body Vibration feels amazing, boosts energy levels instantly and builds health over time. Receive the benefits of vigorous exercise in just minutes a day.
Lack of exercise is linked directly to degenerative illness and early decline. As we know, it's easy to fall behind and even skip our daily workouts. Here's a solution that's fun, easy and feels amazing, every time!
What's even better is that it goes deeper to a cellular level and exercises your body in ways that traditional exercise cannot. With heart disease, diabetes, cancer and osteoporosis on the rise, now is a good time to look more closely at this remarkable health technology.

A recent study showed those using acceleration training in addition to a low calorie diet lost twice as much visceral fat after six months compared to those who followed a low calorie diet with cardiovascular and weight training.
What Sonic Body Vibration Can Do For You
Accelerate fat loss and tone all muscle groups. Patients using the Sonic 15 minutes three times a week lost more weight than those who walked for one hour 6 times per week.


Boost energy and metabolism.

Revitalize hormones (HGH) and immune function.

Help alleviate pain conditions and aching joints.

Dramatically increase circulation and blood flow.

Enhance sports performance and recovery.

Increase flexibility, endurance and the desire to exercise.

Revitalize hormones and metabolism.
Energize Body, Mind and Spirit Naturally!
According to martial arts masters, 10 minute sessions induce the equivalent energy flow throughout the body as performing an hour of qi gong. Imagine standing on a Sonic Life vibrational platform for just 10 minutes and getting a similar cardiovascular, musculo-skeletal and hormonal response as doing an hour of exercise.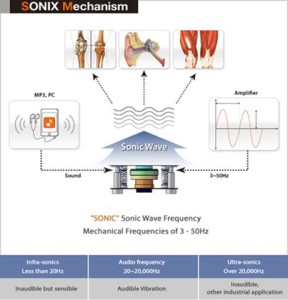 Stress and tension are released, stagnant fluids are circulated and detoxification enhanced. Extended workout sessions on the Sonic Life visibly help tighten and tone. The theory is proposed that when cells are subjected to the harmonic/sonic vibrational frequencies, cellular excitation causes entry pathways called calcium channels to open, allowing the cells to bring in more oxygen and nutrients and excrete toxins. Insufficient cellular stimulation and cellular degradation is directly related to accelerated aging and all degenerative disease conditions
Body Vibration was developed originally by Soviet astronauts to improve bone and muscle density. Sonic is great for all ages, the elderly and even elite athletes. That's why top trainers & sports teams only train with our sonic machines. The exercise system of the future is here now!
When you stand on a Sonic Life machine you are actually standing on high-tech speakers that create Harmonic Resonance energy flow. The safe & patented speaker-based technology provides deeper benefits faster, while avoiding the dangers and risks associated with mechanical platforms. Injury rates are high on mechanical platforms; there is too much shear stress on the joints and tendons.
Sonic healing is like a gentle massage that invigorates critical blood and lymph circulation. There is a global healing response from using sonic healing. We call it "relaxed rejuvenation" and most everybody loves it. For seniors body vibration is invaluable, as it gives vigorous exercise benefits. Users find health complaints – like pain and fatigue reduce over time with the use of sound healing technology.
Related Posts
10000

Everyone knows that the body needs clean air, fresh food and water to survive. But not everyone knows that we need the earth's energy to live. Although humans can survive for a time without the correct electro-magnetic pulsations, our quality of life and well-being will deteriorate rapidly without them. Most…

10000

Energy Medicine and Your Health Now that you are familiar with what magnetic resonance stimulation is, you will want to know what to look for in a PEMF wellness device. Always use a dynamic magnetic resonance wave. Never use a static frequency such as a magnet bed. Using magnets for…