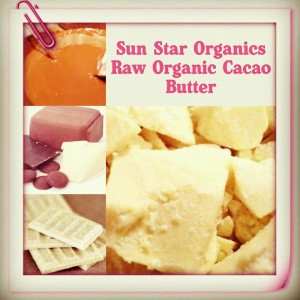 Sun Star Organics' raw cacao butter has a rich color, and is more dense than Philippine Cacao. Its flavor is quite intense, with a faint coffee-like flavor in addition to a light chocolate taste.
Cacao Butter is rich in a number of essential minerals: magnesium, sulfur, calcium, iron, zinc, copper, potassium, and manganese.
To fully receive all the nutritional benefits from the Cacao plant, eat Cacao as close to its natural state as possible.
We are USDA Certified Organic!
Related Posts
88

Sun Star Organics' raw Cacao Nibs from Venezuela are a richer, dark brown color, and more dense than the Philippine Cacao. It's flavor is also more intense, with a faint coffee-like flavor in addition to the light chocolate taste. To fully receive all the nutrional benefits from the Cacao plant,…

50

1. Reduce The Toxic Load: Keep Chemicals Out of the Air, Water, Soil and our Bodies Buying organic food promotes a less toxic environment for all living things. With only 0.5 percent of crop and pasture land in organic, according to USDA that leaves 99.5 percent of farm acres in…