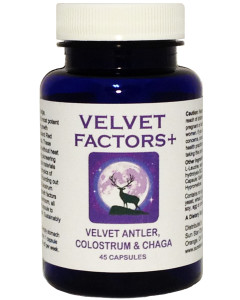 In combination, Velvet Deer Antler, Colostrum and Chaga Mushroom provide a potent blend of naturally occurring growth factors and antioxidants which are involved in every cellular function in your body.
Concentrated and in combination, the formula will provide a more effective and affordable supplement than taking the three traditionally prepared single supplements separately.

High tech processing
Careful processing of these extraordinary ingredients – Deer Antler Velvet, Colostrum and Chaga Mushroom – is the key to getting maximum benefit.
The raw materials require innovative handling and must be purified, then highly concentrated. Processing with too much heat or alcohol will destroy the delicate matrix of these life-enhancing substances.

Why an acid-resistant capsule?
Because stomach acids are harsh and destructive, it's critical to protect the fragile colostrum, deer antler and chaga extracts in an acid-resistant capsule. It helps to ensure the growth factors and antioxidants are not destroyed before they are delivered to the smallintestine, where they can help ward off systemic immune diseases and gastrointestinal pathogens.
Deer Antler Velvet Benefits
Deer Antler is acknowledged as one of the most important tonic herbs in China. It contains natural growth factors, which begin to decrease in our bodies between the ages of 20 and 30.
As we age, our bodies become more dependent on the growth factors, although by age 65, our levels have dropped by 70%. Replacing lost growth factors is a way to help the body and mind feel younger and healthier.
Along with neuroproteins, these growth factors have a multitude of benefits. Deer antler's anti-inflammatory peptides have undergone years of research by William E. Hahn, from the Department of Cellular and Structural Biology at the University of Colorado.
As part of his study of neuroproteins and a substance known as ependymin, he collaborated on the development of a molecule from a natural brain protein which is thought to function in brain development and memory.
This led to animal studies that linked ependymin to a near doubling of lifespan. Hahn found ependymin-like glycoproteins in the regenerative tissue of deer antler.
A meticulously prepared deer antler velvet extract contains high-potency, anti-aging peptides and is one of the few sources of naturally occurring growth factors and co-factors. It provides Insulin Growth Factors (IGF-1 and 2) in oral form, which bypasses the pituitary and liver (unlike Human Growth Hormone "HGH"), dissolves rapidly and shows fast action. Deer antler also contains:
Transforming Growth Factors (TGF)

Nerve Growth Factor (NGF)

Neurotropin-3 (NGF3)

Fibroblast Growth Factors (FGF-2) and Vascular Endothelial
Growth Factor (VEGF) which work synergistically with NGF to promote neurite and nerve survival and development. This combination of diverse growth factors, cofactors and neuropeptides are what makes them so effective over a broad range of bodily systems and functions.
Potent and ethically harvested deer antler velvet
It is important to know the origin or the velvet deer antler you take, both from an effectiveness and humane standpoint. The most potent growth factors are contained in the deer antler tips, which can be harvested without harming the animal in any way.
Deer antler velvet and its growth factors is known to provide benefits in these areas:
Anti-aging & Beauty
Helps improve skin and muscle tone
Helps reduce wrinkles and lines
Promotes healthy metabolism and ideal weight
Overall Well Being & Vitality
Protects against stress
Increases energy, focus and brain activity
Helps build blood, increases oxygen uptake to the brain, liver and kidneys
Reduces blood pressure through increased dilation of peripheral blood vessels
Immunity, pain relief, injury recovery
Improves cell growth and regeneration
Promotes and enhances recovery from traumatic injury
Eases arthritis and inflammation
Promotes nerve survival and development
Colostrum Benefits
A high quality bovine colostrum contains antibodies at a 40% IgG level and is hormone, steroid, chemical and pesticide free, with high levels of active growth factors.
Colostrum is known for:
Supporting and helping to regulate the immune system, for combating allergies, autoimmune diseases, viruses, and bacteria

Providing antioxidant support, for muscle and tissue recovery

Supporting the digestive tract, helps heal intestinal mucosa, provides prebiotics for healthy gut microorganisms

Aiding in regulation of blood sugar and fat burning

Assisting in building lean muscle and faster recovery from sports competition & training

Helping to increase stamina

Reducing lactic acid and inflammation

Supports joint health

Assisting in wound healing
Chaga Mushroom Benefits
Chaga is one of the earth's most potent natural supplements. A great source of high potency, radiation free Chaga Mushroom herb is from pristine North American sites.
Chaga Mushroom has been shown to boost one of the body's most powerful natural antioxidant enzymes: superoxide dismutase (SOD). It contains 25 to 50 times more SOD enzymes than any other medicinal mushrooms and nearly seven times higher on the ORAC scale than acai, its closest food comparison.
Chaga Mushroom is known to:
Help reduce depression, fatigue, insomnia and irritability

Aid in boosting energy levels

Act as an immune system modulator and adaptogen, with the highest level of the healing enzyme superoxide dismutase (SOD) of any food or herb in the world

Have antiviral and antibacterial properties

Inhibit inflammation and help relieve pain

Promote and protect liver function, which helps process Candida toxins

Help lower cholesterol and blood pressure levels
Click here to find a super bioavailable Deer Antler Velvet, Colostrum and Chaga Mushroom blend.
These statements have not been evaluated by the FDA. This product is not intended to diagnose, treat, cure or prevent any disease. Information on this site is provided for informational purposes and is not meant to substitute for the advice provided by your own physician or other medical professional. You should not use the information contained herein for diagnosing or treating a health problem or disease, or prescribing any medication. You should read carefully all product packaging. If you have or suspect that you have a medical problem, promptly contact your health care provider.