Surprising Skin and Beauty Uses for Coconut Oil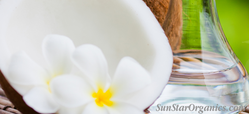 Coconut oil is not just for eating; it has incredible uses as a beauty and cosmetic aid.
Skin Care
Moisturizer Coconut oil is an excellent and effective moisturizing oil for the skin. It works on all skin types, including dry skin. The benefit of using coconut oil on the skin is similar to that of mineral oil but without the petrochemical toxicity and with no chance of an adverse reaction.
Coconut oil is a safe and effective solution for preventing dry, flaky skin. Its use can also delay wrinkles and skin sagging. Coconut oil can help treat various skin problems including psoriasis, dermatitis, eczema and other skin infections due to its anti-bacterial properties.
It can be used as the basic ingredient and a carrier for various skin care products such as soaps, lotions, creams and lip balm. Coconut oil has a natural sunscreen SPF 4. Use coconut oil as a night cream for its moisturizing and anti-oxidant benefits.
Massage Oil Combine coconut oil with your favorite aromatherapy oils for unique and personal use.
Emollient for Baby An excellent skin care emollient for baby, coconut oil has anti-microbial, anti-bacterial and anti-viral properties. Great for diaper rash.
Body Scrub Mix equal amounts of melted coconut oil with sea salt and, while in the shower rub it over your rough patches like elbows and feet. Add your favorite essential oil for a personalized after-shower scent.
Hair Care
Hair Conditioner Coconut oil is one of the best natural nutritions for hair. It can be used as a conditioner and frizz tamer. Used as a deep hair conditioner, coconut oil can be applied to dry hair as a pre-shampoo treatment. Leave it on your hair for about an hour to moisturize before shampooing.
Or hydrate your hair by using coconut oil as a leave-in conditioner after washing, Apply a small amount to your wet hair strands to seal in moisture. It is an excellent conditioner and helps regrow damaged air. It also provides the essential proteins required for nourishing damaged hair.
Coconut oil helps create healthy hair and scalp. Regularly massage your head with coconut oil as a dandruff treatment to keep your scalp free of dandruff, lice and lice eggs.
Cosmetics
Highlighter Dab a little coconut oil on those places you want to glow – on the top of your cheekbones, above the eyebrows and in the dip just above your upper lip.
Makeup Remover Massage a little coconut oil (about a teaspoon) directly onto your facial skin and remove the day's makeup with ease. Then rinse your face with warm water.
To make your own makeup remover wipes, melt coconut oil soak in a flat plastic container with lid under hot, running water. Soak round cotton pads in the liquid coconut oil overnight. Store them in the same container.
Other Uses
Lubricating Agent Coconut oil can be used as a lubricating agent in suppositories and gelcaps.
Shaving Cream Warm a jar of coconut oil under hot water and smooth it onto your legs (or face) for a smooth, close shave. Your skin will be moisturized when you finish.
SUN STAR ORGANICS Coconut Oil is organic and raw and has many excellent features.
Related Posts
84

Virgin coconut oil is a nutritional powerhouse and source of energy. Its unique combination of fatty acids with powerful medicinal properties can have a profound and beneficial effect on health. Some of the many health benefits of coconut oil include the following: Bone Health  Coconut oil improves the ability of…

69

Aromatic Coconut Oil is a very versatile Superfood. It can take the place of butter or other oils as a spread. It can also be used in making smoothies, in raw foods and dehydrated food recipes, in baby food formulas and in making confectioneries such as ice cream and other…

56

Coconut Oil is a Superfood that has come of age. Its many health benefits are attributed to the presence of Lauric Acid, Capric Acid and Caprylic Acid with its inherent properties of anti-oxidant, anti-fungal, anti-bacterial and anti-microbial. Coconut oil can be a large part of maintaining good health and can…